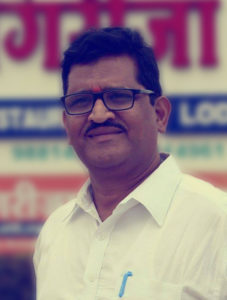 Hotel Girija is the dreamed project of Mr. Mukund Rakshe. Mr. Mukund Rakshe started small hotel with the name Hotel Girija and led the foundation in 1992 only. From 1992 to till date Mr. Mukund is working very hard to complete his dreamed project. In this entire journey his main focus was on customer and he knew that his loyal and honest service is the only one option which will grow the business and he followed this from 1992 to till date.
Mr.Mukund Rakshe always believes that his journey is successful due the blessing of God Ganpati. Mukund Sir's mother was the person who financed & helped him to start this journey in hotel business and due to her mother's blessing he has reached at this stage. State Bank of India Junnar branch also helped Mr. Mukund to complete his dreamed project without this journey is incomplete.
Tourist from Mumbai, Pune, other parts of Maharashtra and from other places from India is regularly visiting Hotel Girija and Hotel Girija has kept the same taste throughout the this journey and same people are visiting again & again to taste the tasty food with different varieties served by Hotel Girija.